Democrats & BLM Takes Huge Hit From Jussie Smollett Hate Crime Hoax
Evidence shows Cory Booker, Kamala Harris and Others Were In On the Jussie Smollett Hoax.
Jussie Smollett Found Guilty On Multiple Counts In Hate Crime Hoax Case.
After about nine hours of deliberation, a jury has found former "Empire" actor Jussie Smollett guilty on counts related to an apparent hate crime hoax he orchestrated in 2019.
Smollett was found guilty on five out of six counts of disorderly conduct. He has not yet been sentenced, but it facing up to three years in prison on each count.
Back in January 2019, Smollett claimed he was targeted and attacked by apparent supporters of President Donald Trump in an anti-gay, anti-black hate crime. His alleged attackers, whom he initially described as white males who yelled "This is MAGA country," were brothers Abimbola and Olabinjo Osundairo, Smollett maintained. Notably, the brothers are both black men who knew the "Empire" star before the incident and have claimed Smollett orchestrated the "hoax."
Smollett contends he was targeted by two Trump supporters, who verbally and physically accosted him as he was walking home from a Subway sandwich shop in downtown Chicago on January 29. The actor says the men called him a "f*****" and a "n*****," tied a noose around his neck, poured bleach on him, and kicked him in the ribs.
Smollett unsuccessfully tried to get the charges against him dismissed in October 2021, before the trial started.
Smollett's attorney, Nenye Uche, said the charges should be dismissed because Smollett already performed community service and paid a $10,000 bond under a sweetheart deal with Cook County prosecutors, The Associated Press reported.
"A deal is a deal. That's ancient principle," Uche said, according to the outlet.
However, Cook County Judge James Linn denied the request. "Linn explained that the case was being handled by a special prosecutor who was appointed by a different judge and that he would not end that arrangement," The Daily Wire noted.
New Evidence Suggests Cory Booker, Kamala Harris and Others Were In On the Jussie Smollett Hoax
Smollett held a number of conversations with Cory Booker and Kamala Harris about supporting their sponsored Justice for Victims of Lynching Act and providing the needed public momentum for the bill to pass the Senate and House.
The timeline of these conversations (December 21-January 18, 2019) suggests that the death threat letter he sent himself (January 22-23) and his staged attack (January 29), were timed to create an opinion groundswell to support the bill and prop the political and professional career of the three masterminds.
It is noteworthy that both, Harris and Booker released separate statements condemning Smollet's attack using the following identical language "an attempted modern-day lynching" –

At the time Booker released his statement at 12:09 PM and Harris hers at 1:30 PM they could not have possibly known what the motive for the attack was because the police were only a few hours into the investigation.
The first tip that the Chicago police received regarding the true nature of the case came from within Smollett's inner circle. One of his friends realized that he was now being investigated as a suspect, and decided that he didn't want to be an accessory to a crime. He then contacted the police and told them that "the entire event was orchestrated by Smollett." This is another strong indicator that multiple participants knew about staged attack in advance.
Beyond the obvious question of how Smollett managed to shake off 16 felony charges without breaking a sweat, is the issue of Cory Booker's and Kamala Harris's involvement in the planning and orchestration of Smollett's publicity stunt. All material evidence suggest that parts of the event were influenced by Booker and Harris.
Smollett was friends with the Obamas –

The State's Attorney for Cooke County, Kim Foxx, is connected to a number of Democrats including the Clintons, Harris, Booker and Jesse Jackson (see picture above). Tina Tchen worked with Foxx to drop the charges against Smollett –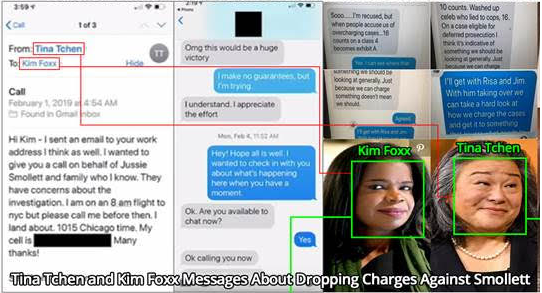 And Tchen is also connected to the Obamas. Some other puzzling questions about this case are who beside Tina Tchen, Michelle Obama, and Jesse Jackson Sr/Jr. (another big-time felon), were in on the decision that Smollett's punishment should be limited to forfeiting his $10K bail and volunteering with Jackson's Rainbow PUSH Coalition for 16 hours? And who worked out, coordinated, and blessed the details of this settlement?

Overall the Smollett case is connected to the deepest of the Deep State Democrat Party –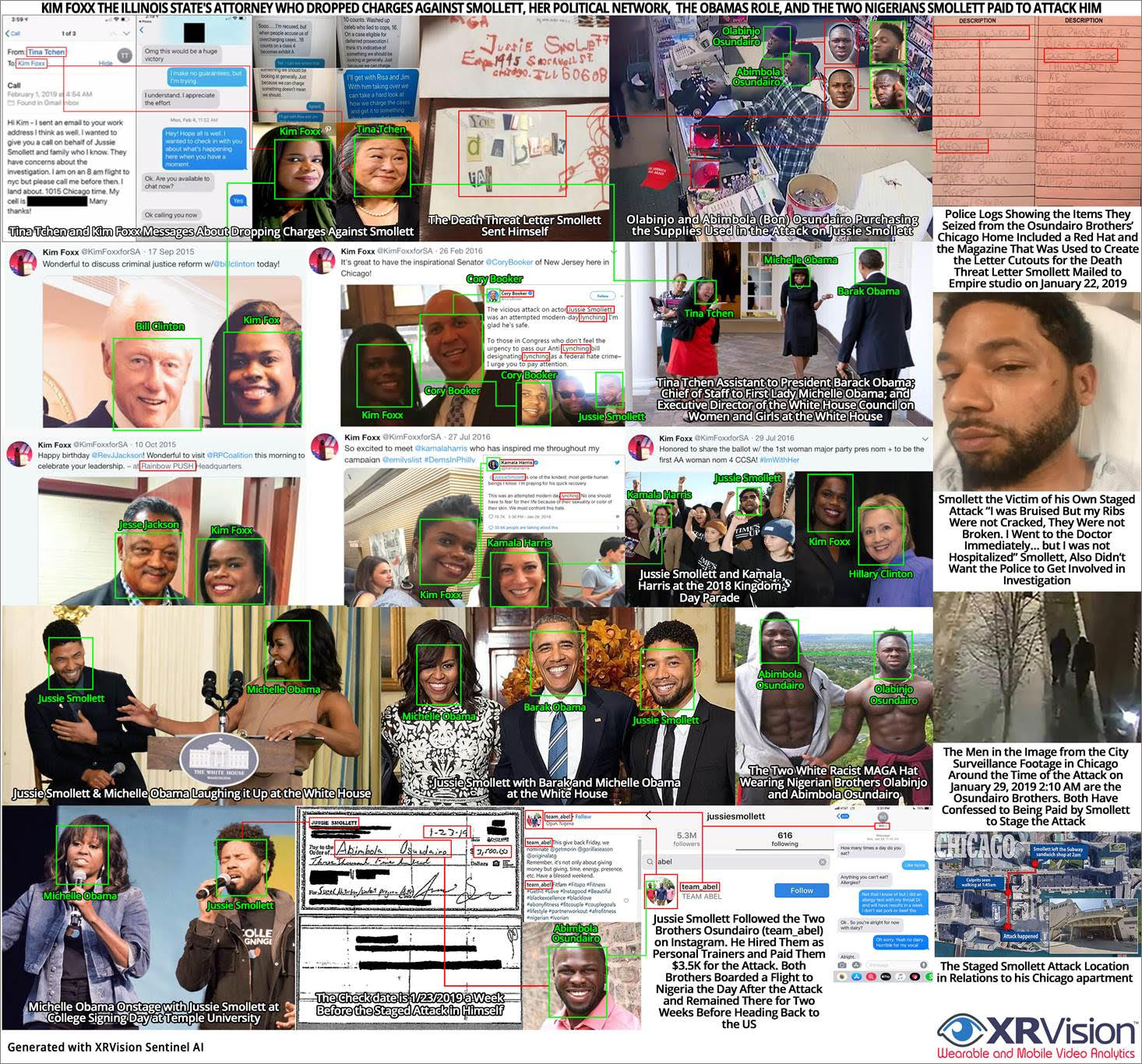 Hollywood Celebrities Quiet On Verdict
Liberal Hollywood celebrities who fully-backed convicted hate crime hoaxer Jussie Smollett have been silent, as of this reporting, in the wake of the guilty verdict in Chicago.
"We have a media that says it's a debate that whether or not what happened to Jussie Smollett is a hate crime. It's absurd. It's not a fucking debate," exclaimed actress Ellen Page (now Elliot) in 2019.
"This is a racist hate crime and is disgusting and shameful to our country," tweeted pop singer Katy Perry.
"Homophobia existed before Trump, but there is no question that since he has injected his hatred into the American bloodstream, we are less decent, less human,& less loving," tweeted director Rob Reiner, who also deleted his post as the evidenced piled on against Smollett.
"THIS is why we have to have zero tolerance against homophobia and racism. Jussie's life matters," exclaimed actress Olivia Munn in a now-deleted tweet.
"VILLAINY, RACISM, HOMOPHOBIA," lamented singer Cher in a tweet that she never deleted.
Oscar-winning actor Viola Davis wanted America to "take this racist and homophobic act of violence very personally."
Even as proof of Smollett's guilt became readily apparent, some celebrities, especially his "Empire", remained in the actor's corner, bitterly clinging to the hope that two racist Trump supporters attacked him at 2 AM on a cold Chicago winter's night.
"No one could be that hurtful? To stage this? Right? To fuck with all of us by playing into our weaknesses & make it even harder for victims to come forward?! No one could choose to be that hurtful? Right?! RIGHT?" a perplexed Alyssa Milano asked.
"Heartbroken and furious reading about the attack on Smollett. I want Trump and all MAGA lunatics to burn in Hell," tweeted comedian Billy Eichner, who deleted the post shortly after news of Smollett's hoax came to light.
BLM Leader Backs Jussie Smollett; Labels Hate Crime Hoax Trial a "White Supremacist Charade"
A Black Lives Matter leader affirmed the movement's support for Smollett, arguing that activists "can never believe police" over a black man.
Melina Abdullah, a former California State University professor and the co-founder of Black Lives Matter Los Angeles, defended Smollett as having been "courageously present, visible, and vocal in the struggle for Black freedom" and criticized the trial as a "white supremacist charade."
"So let's be clear: we love everybody in our community," Abdullah wrote in a statement on the website for the Black Lives Matter Global Network Foundation. "It's not about a trial or a verdict decided in a white supremacist charade, it's about how we treat our community when corrupt systems are working to devalue their lives."
BLMers don't want to make the police department or justice system more fair; they want to tear it down. "Policing at-large is an irredeemable institution," Abdullah writes. "Black Lives Matter will continue to work towards the abolition of police and every unjust system."
Ref:
https://www.foxnews.com/entertainment/jussie-smollett-criminal-trial-judge-denies-dismiss-case
https://www.dailywire.com/news/judge-denies-jussie-smolletts-last-ditch-effort-to-have-charges-dismissed
https://www.breitbart.com/entertainment/2019/02/17/ellen-page-late-show-interview-blaming-trump-and-pence-for-jussie-smolett-hate-hoax-has-18-million-views/
https://www.breitbart.com/entertainment/2019/02/17/15-celebrities-who-blamed-trump-deplorables-for-hoax-attack-on-jussie-smollett/
https://blacklivesmatter.com/statement-regarding-the-ongoing-trial-of-jussie-smollett/?__cf_chl_jschl_tk__=9vVGcLBw8wtYhVfI3bcFaNdIkRUEbRyT.ql7P8Jf1sg-1638977625-0-gaNycGzNCZE